Welcome to Shadows of The Creed. An Assassins Creed rp set in the 1560s. This follows the story of the brotherhood of assassins who protect to the creed. Want a unique rp where the focus isn't on either Altair or Ezio? Well this is your place!

We welcome all members - regardless of whether or not you've played the games. We are more then happy to help totally new members who haven't even played the games but have an interest. So if you aren't already a member we hope you will join us here.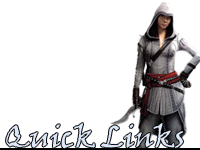 Please Note - this C-Box is STRICTLY OOC.



This site is watched over by Altair. Any attempts to steal any part of the layout or design will result in rapid stabbity stab stab stab assassination by Altair. If Malik or Ezio don't get there first. You have been warned. Graphics come from screenshots of the Assassins Creed game, lovingly cut out by Beth. Design comes solely from the admins mind.

<! -- ***NOTE*** Place any extra added side tables above this line // -->
Forum Statistics
Users Online
Active Users in the Past 24 hours